I haven't posted much since I have been sick with a tummy virus for the last week or so. It was not fun let me tell you. I still felt a little sick today but, still went into my craft room and tried to make a couple of cards for some challenges. I feel A LOT better tonight so hopefully it's gone for good. Now on to the good stuff.
Pink Cat Studio's DT, Tammy challenged us this week to grab some inspiration from her bright curtin that is hanging on the window of her computer room. I love bright colors so that's what I grabbed from the curtin was the pretty bright colors!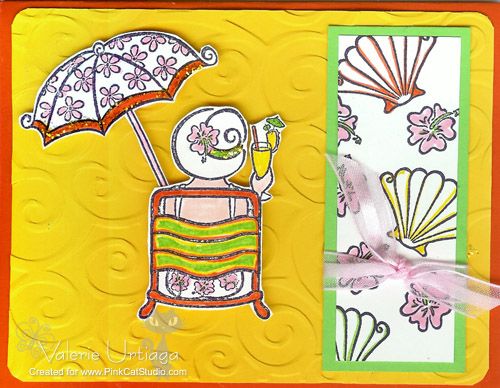 The next card that I made was from a sketch that Nicola posted on her blog here
http://mypaperworld.blogspot.com/
. I also used Tammy's challenge on this card since I had some scraps left from the card above. I really love the way this one came out. I just LOVE the beach and I love Pink Cat Studio's beach stamps they are too cute and fun to use!