Pink Cat is turning 3 on Sunday May 4th and her friends the party chicks are having a little celebration. They want you to win the new Party Farm Animal stamps that will be released on Sunday. To enter this contest, count the number of party hats in this image and leave a comment with your count in the Happy Birthday Contest post on the Pink Cat Studio blog.

Everyone who leaves a comment will be entered into a draw to win the stamps. This contest will end on Friday May 2nd at midnight EST and the winner will be announced on Sunday May 4th.
Thanks for playing!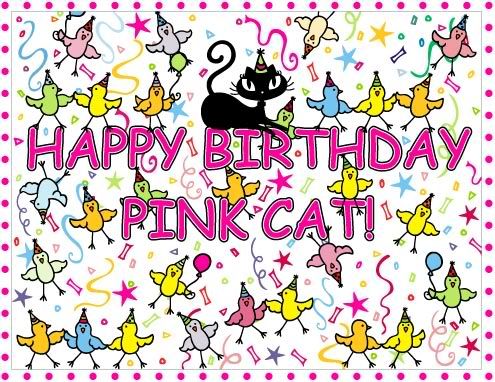 Here is my sneak peek for today :o) Stamps used the "NEW" PARTY ANIMALS w/ the background stamps! Make sure you visit all of Pink Cat's DT members blogs to see more CUTE cards and the NEW stamps!