And are ready to purchase! You know you love these stamps and you gotta have them so go over to
http://www.pinkcatstudio.com/
and purchase them today!!! They are so much fun to use. I know I have had a blast using them.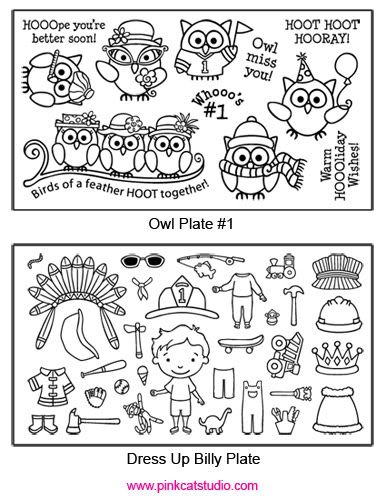 Here are the contest winners to the Dress up Billy set and Q.T. Hooty set.
Participants were asked to guess how many stamps are in the new Dress Up Billy set. The correct answer is 32.

Melissa did a random draw of everyone who guessed correctly and the winner is:
Mary Jo Price-Williams
Participants were asked to suggest a name the cute little owl.
Melissa decided on Q.T. Hooty for the name.I did a random draw including everyone who entered the contest and the winner is:
mustangsarah
If you are the winnner be sure to email Melissa with your address so she can get your free sets out to you!
Congrats to the two winners and have fun using your new stamps.
And last but not least here are some more cards I made using these two sets.